Ah-ha! Now you know what to get your favorite cook: a mortar & pestle that's a work of art unto itself. Made of Dalbergia Sissoo wood, each mortar & pestle by Tahir Mahmood is hand shaped using the lathe turning technique. Once formed, each piece is coated with vibrant colors created with a sap-based resin. The collection was inspired by the Punjabi agricultural calendar, and I'd reckon that you'll have a hard time picking your favorite amongst the eleven designs.

Solid wood with organic resin.
Handmade by artisans in Tahir Mahmood's studio in Lahore, Pakistan.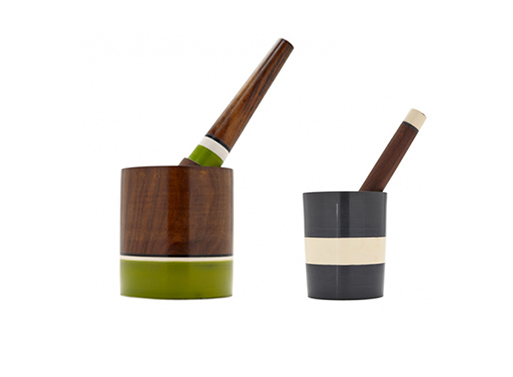 These two are available from LoveAdorned.com:
Left, Medium Maghar Mortar and Pestle, $190
Right, Mini Phagun Mortar and Pestle, $140.00
Tags: Gifts, Gifts $100+