At last! We can stop our search for the perfect window coverings, for Ronan and Erwan Bouroullec have come to the rescue with the Ready Made Curtain kit, and it's finally available to purchase. A curtain and its complete hanging system are included, and with a few assembly steps, you'll have one heck of a modern curtain that you can brag about. Oh, but wait, there's the issue of the price; you'd assume that a kit that requires a little elbow grease from someone such as yourself might be budget-friendly, maybe around the $200 or even $300 mark, as I did when I called the retailer. Prepare yourself, and expect to pay around $470 per kit/window… or keep searching, as I will.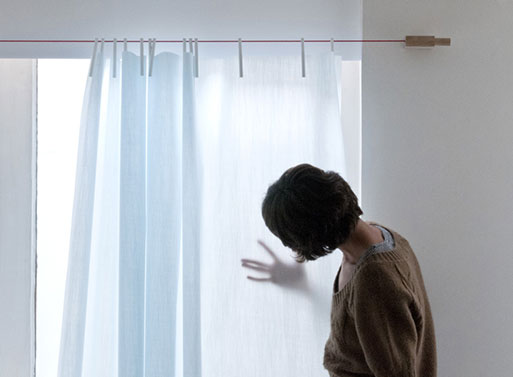 Contact Ligne Roset to order.
Inside the box is a curtain and its complete hanging system.
-Fix the two mechanisms to your wall or ceiling.
-Wind to create tension in the cord.
-Cut your fabric to the correct length.
-Attach the pegs to the fabric.
-Hang your curtain.
-Available in two fabrics: a woollen and a non-woven textile. Both fabrics come in three colour variations from warm whites, deep and pale blues and a flaming red.
Each complete kit contains:
300cm long × 140cm wide woollen curtain
2 wooden hanging mechanisms
9 pegs
500cm cord Each extension kit contains:
300cm long × 140cm wide woollen curtain
1 wooden centre support
9 pegs