From the plate to you, "I love the way you look at me, and the way you use your knife. I love the way you eat your food, you give meaning to my life." If you're lacking handwritten sentiments, one quick fix would be to pick up a pen and send a nice note to someone in hopes they'd write you back. The other would be to eat off these Poetry Plates and pretend they have feelings. Each plate can be customized with a special message on the back.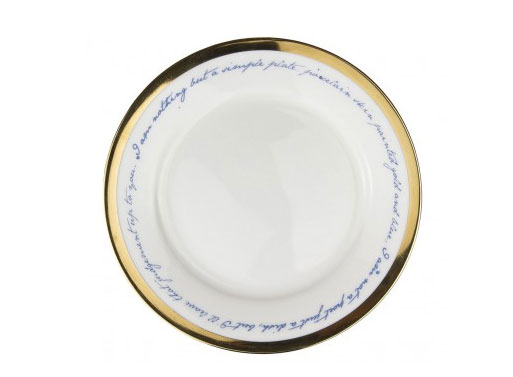 Fine bone china plates with gold luster edging and blue text.
Due to the gold lustre edging, repeated dishwasher use is not recommended.
Large 10″ (gold band with blue poetry), £ 55.00
The large 10 inch plate reads "I love the way you look at me, an the way you use your knife. I love the way you eat your food, you give meaning to my life."
Medium 8″ (gold band with blue poetry), £ 45.00
The medium 8 inch plate reads "I am nothing but a simple plate, porcelain skin painted gold and blue. I am not a poet, just a dish, but I'll leave that judgement up to you."
Small 6″ (gold band with blue poetry), £ 35.00
The small 6 inch side plate reads "A little bit on the side."