What in the world? $5,800! That's extraordinarily expensive for a set of kitchen tools, so you say. Yes, it is, but this set is the ultimate set, and you'll see why in a second.
The Malle W. Trousseau is a collection of the very best utensils from around the world. Inspired by their daughter leaving home and needing her own kitchen items, French couple Isabelle Mathez and Frederic Winkler created this trousseau by selecting each item for its "unparalleled functionality, beauty, and quality."
When you think about not needing to replace or add to the collection, perhaps ever, and that it would most likely last more than a lifetime, that price tag starts to make a lot of sense. More of the trousseau below.

Available from the MoMA Store, $5,800.00, or made in design, £2,758.00 ( that's around $4,277.96, so, if you're in the US and seriously considering a purchase, you might want to look into shipping from the UK, fyi).
Arrives in a sturdy wooden-framed recycled cardboard "trousseau" organized by function into three trays.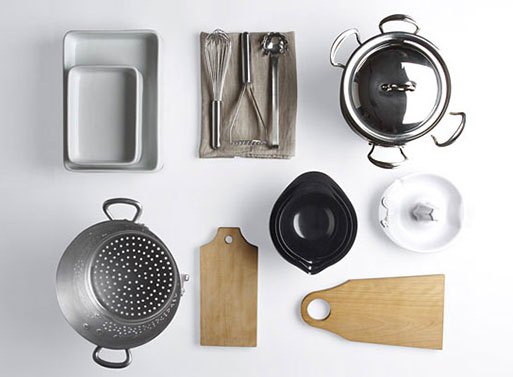 The Container Tray, includes 16 Items:
Oven Dishes (includes 2), Balloon Whisk, Potato Masher, Spaghetti Spoon, Large Dish Towels (includes 2), Stockpot, Pasta Insert, Chicken Cooker, Mixing Bowls (includes 3), Chopping Boards (includes 2), Multi-Purpose Colander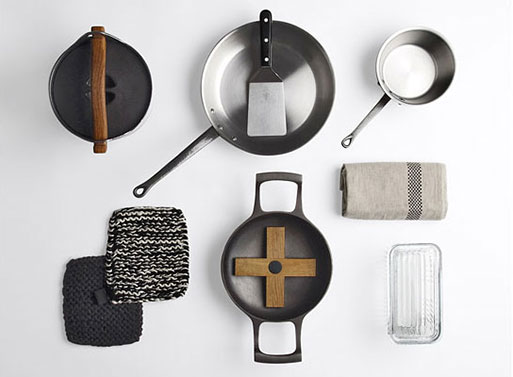 The Cooking Tray, includes 11 Items:
Cast Iron Casserole, Frying Pan, Pallet Knife, Slope Sided Saucepan, Dish Cloths (includes 2), Glass Container, Cast Iron Pan, Trivet, Pot holders ( includes 2)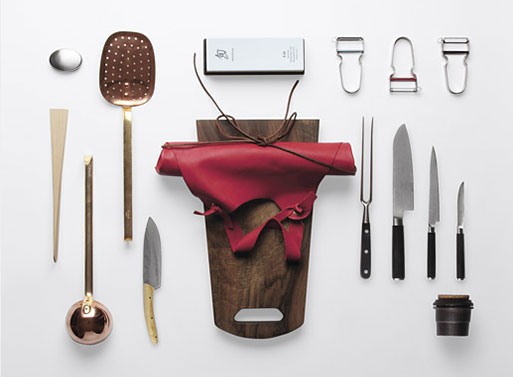 The Cutting Tray, includes 16 Items:
Stainless Steel Soap, Skimmer, Grinding Stone, Vegetable Peelers (set of 3), Shun Knives (set of 3), Spice Grinder, Carving Fork, Cutting Board, Leather Apron, Corsican Knife, Ladle, Wooden Spatula
Assembled in France.
Dimension: 24h x 32w x 24″d
Tags: Gifts, Gifts $100+