Last week I saw a picture of this outdoor shower and immediately thought 'how-much-from-where' because it'd be perfect for the lake house getaway that we are currently planning (we have land but no house yet). So, I tippity-typed out a message to inquire after the price and shipping, as the company is located in Belgium. Are you curious as well? Info below.

Price: 595 €
overseas transport door-to-door: 160 €
total: 755 € , delivered in +/_ 10 days.
Email Atelier Tradewinds to purchase, and they'll send you an invoice.
From the installation video, it looks super easy to set up, and all you need is a hose to connect it to. Nice!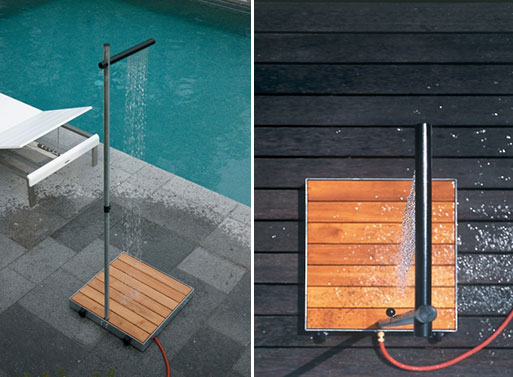 -Outdoor shower for terraces and gardens made out of hot galvanised steel.
-Acacia wood base planks are comfortable and friendly to bare feet.
-Discreet tap on the vertical tube regulates the shower's pressure and the overhead horizontal tube provides a sheer waterfall curtain of water.
-Cascade is easy to connect to a garden hose with a quick connector.
-Two small nylon gliders are hidden at the back of the frame to move the shower easily.
-100% sun and rustproof
Weight 30 kg
Dimensions: L 70 x l 70 x h 220 cm
Colors: zinc grey, acacia wood and black nylon