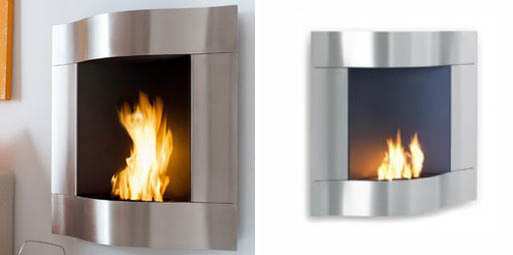 This just went to the top of my personal wishlist:
"Blomus' indoor fireplace is a breakthrough in indoor ambience that mounts on any wall with no need for a chimney, gas line or professional installation. The fireplace installs in minutes by mounting to any wall in your home. Now, you can easily create a comforting atmosphere for your living room, bedroom, bathroom or dining room. Simply mount to the wall, fill the reservoir, light it up and enjoy.
The secret is that the flame is generated from Ethanol which is a safe, clean burning fuel that is completely organic and made from renewable resources like corn, potatoes, wheat and other vegetables. Furthermore, Ethanol is green since it is not a fossil-fuel and burning it does not increase the greenhouse effect like other fuels."
Dimensions: 27.55″ W x 27.55″ H x 6.29″ D.
Correction: One of our chemistry-minded readers told us that the retailer's statement that ethanol is a "green" resource is not correct. While it is a renewable resource, it does increase the greenhouse effect, because any combustion reaction involving a hydrocarbon creates carbon dioxide. So while ethanol does burn cleaner than traditional fuels, it is not 100% green.

Thanks Matt!
Tags: eco-friendly