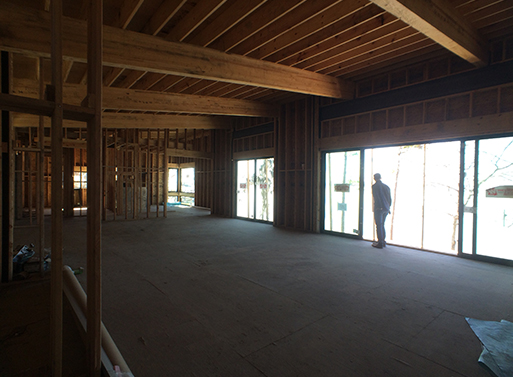 If you've ever had the pleasure (and pain) of building a house from the ground up, you know it's a mixed bag. A great team of architects and builders helps you start out on the right foot, but no matter how experienced that team is- or seems to be- or how much research and preparation you do, there are still going to be issues that crop up.
Those issues, mind you, crop up very often when you build modern/minimal home. Not everyone is familiar with a less-is-more sensibility, and the care and detail required in a minimal, visually clean finish often take twice as long (or more) as as a traditional build. Got an uneven drywall edge? Slap some trim on and no one will know (or care). A perfect, no-trim look on a drywall edge? You'd think you were suggesting a trip to the moon with some contractors. I've learned all this in the various remodels I've overseen, but especially so in the last year, as I'm currently building a lake house here in Texas.

I write this whole post with a little trepidation, as we've sort of tried to stay impersonal on BLTD. We don't usually talk about what we've had for breakfast, the things we buy for ourselves, or even the DIY project we might have attempted over the weekend (okay, I did share the Adelman light fixture, so there's that). Maybe this should change, maybe it shouldn't. We'll see.
Right now, I'm neck deep in the building process, so I'm going to attempt to share some of the issues I've run across, and hopefully it will be interesting or helpful in one way or another. The image above is of our house a few weeks ago, before insulation and drywall. The image below is before the house building began, right when the bulkhead was installed last year. I'll begin next week with the thoughts my husband and I had when we began, as well as the models I built to give us an idea of what we wanted and, after we worked with an architect, of what we'd get.
Tags: lake house