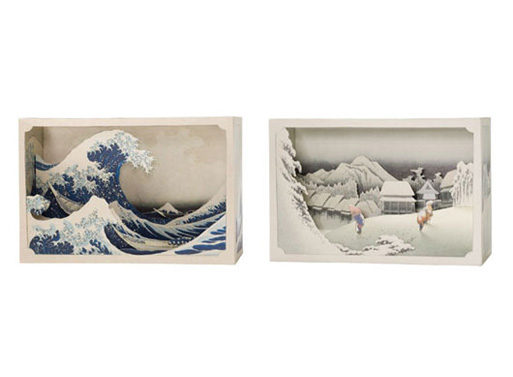 From our archives (originally published May 22, 2008), for your gift list consideration… to see more, visit our Gift Guide.
Incredibly affordable, these diorama kits will give enjoyment long after assembly.
'Tatebanko is the forgotten Japanese art of creating amazing dioramas and scenic perspectives from paper. Tatebanko was popular and widely admired from the 17th century (Edo period) to the early 20th century. Then it all but disappeared. "It's a Beautiful Day" has now revived and reinterpreted this simple and elegant Japanese art with two new paper craft kits. This kit features Hokusai's The Great Wave off Kanagawa. Beautifully designed and printed in Japan with elegant metallic accents, the kits are nicely packaged A4 size and make a diorama that is 7 1/2" W x 3 1/2" D x 4 7/8" H.'
Hokusai (left): $9.95
Hiroshige: $9.95
Available from
Architect Gifts Plus
, $10.95.
Tags: Gifts, Gifts $1-$25