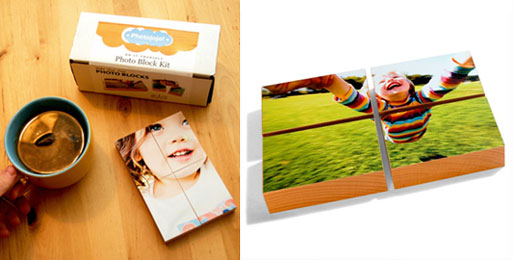 This might just bring out your crafty side…looks kind of fun, doesn't it? You could probably get all these materials at a craft shop, but then again, convenience is worth paying for sometimes…
Photo Blocks are a fun and unique way to display your favorite photos, and you get to tell people that you made them yourself! (Oohs and aahs will certainly ensue.) This easy to assemble kit includes everything you need to create two beautiful photo block sets. Photo-safe glue adheres your photos firmly to the blocks and a sealer gives them a protective finish and brushed texture. Easy instructions and all materials included; bring your own 4″x 6″ photos, scissors and ruler. Made in New York City.
Includes 8 wood blocks, foam brush, sandpaper, instructions, photo-safe glue and sealer. For ages 8 and up.

$25.00
This item is no longer available from the original retailer.
Tags: Gifts, Gifts $1-$25