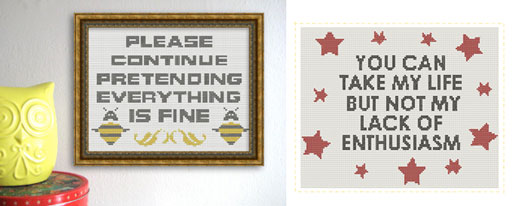 You know you'll most likely have some extra time on your hands this summer, so maybe consider trying out some cross stitch kits like these offered by Fuldesign.
Each kit comes with aida weave fabric, embroidery yarn, pattern and instructions. Pattern fits 12.5 x 10 in fabric. Designed in Sweden.
Cross stitch kit "Continue pretending", $20.00
Cross stitch kit "You can take…", $20.00
Available from
fromsthlm
, $.
Tags: Gifts, Gifts $1-$25