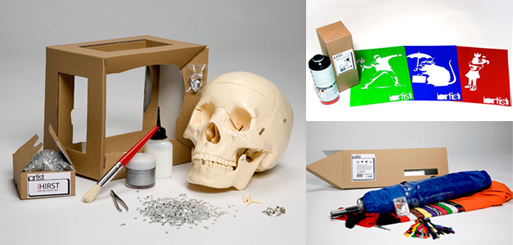 Check it: if you don't have the pounds for an original, you can now easily create your own copy of a contemporary art piece. Choose from IHIRST, IQUINN, IBANKSY, IEMIN, IWHITEREAD, or IPHOTOGRAPHER. Altogether a brilliant idea to get contemporary art into the hands of everyone.
IARTISTLONDON is a brand new way of creating your very own contemporary work of art. It's quick, it's easy and you don't need any artistic training or ability to start making great pieces! We supply you with all the necessary tools to produce your personalized copy of an original master.
Please see site for more details, as I certainly cannot do each piece justice in details.
IHIRST, IQUINN (£20.00), IBANKSY (£9.99), IEMIN (£15.99), IWHITEREAD (£4.99), or IPHOTOGRAPHER (£9.99-£15.00)
Buy it here.
[via designboom]
Available from
IARTISTLONDON
, £20.00.
Tags: Gifts, Gifts $1-$25