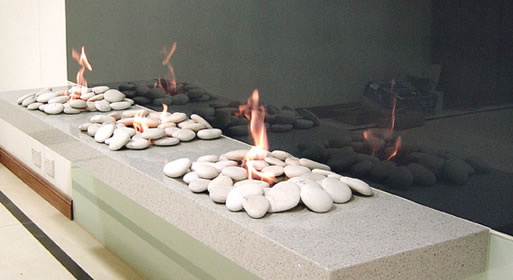 I love the way minimal fireplaces look, but they often require a fancy architect. Here's a solution that doesn't require an architect, and as an added benefit, it's being touted as an environmentally friendly open fireplace.
It's Flue less, easily transportable, does not require any installation or utility connection for fuel supply. It's fuelled by a renewable energy (Denatured Ethanol), it burns clean and is virtually maintenance free.
The best part about it is that the EcoSmart® Fires can be free standing, wall mounted, fully fitted into a range of personalised finishes, shapes and colors or inserted into a closed-off fireplace. The burner can also be inserted into joinery to create a streamlined bench top feature. Without the need for flue or pipe connections, EcoSmart® Fires offer remarkable design flexibility previously unavailable to the consumer.