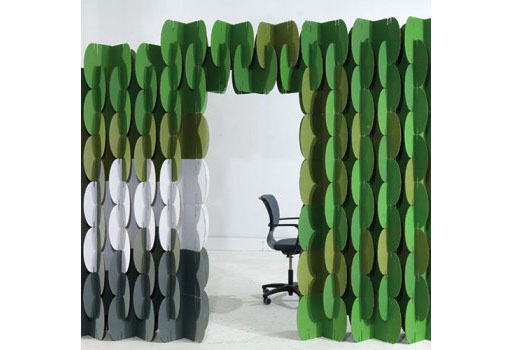 Talk about versatility- these can be configured any way you wish into whatever you might need (partition-wise).

"Made of recycled, double-walled cardboard, and available in six organic colors, the adaptive Nomad Architectural System can be assembled (and re-assembled) into freestanding screens, temporary partitions, rooms, or display elements without hardware, tools, or damage to existing structures and surfaces. By translating the basic tools of architecture into simple, intuitively designed modules, Nomad is easily arranged into arboreally evocative configurations that are open and airy, or enclosed and private."
Sold in sets of 24 modules of a single color. Six colors are available (each of which are sold separately): White, Mid Gray, Dark Gray, Light Green, Mid Green, and Dark Green.
each module is 21″ long x 14″ wide x .1875″ thick
Made by Mio in the USA.
Available from
Mio
, $56.00.
Tags: cardboard