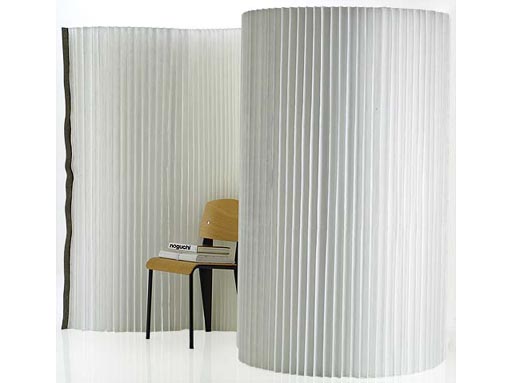 The Molo Soft Wall is now 50 % off (as of Oct 2, 2007).
"Pioneering inventive and environmentally sound applications for novel materials, Todd MacAllen and Stephanie Forsythe have molded Tyvek (a white polyethylene fiber-based sheet material made by DuPontTM ) into a modular Softwall. Few partitions can transform space with such visual delicacy and material strength. The partition opens up to 20 feet, employing a simple but robust accordion pleat that retracts as easily as it opens. Designed to be freestanding, the Softwall should be arranged with gentle curves for stability. It has a subtle translucence that allows silhouettes of passing forms to sift through. Spot-cleanable and virtually indestructible, the Wall is suitable for domestic and office use.
This item is flammable and is not intended for high traffic public spaces."
Available from
DWR
, $2000.00.
Tags: tyvek