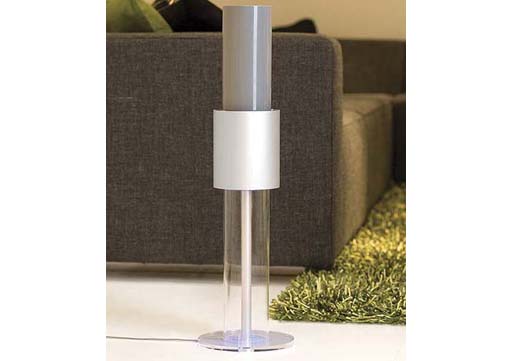 No matter what you've thought of air purifiers before, you're sure to admit this one is relatively nice-looking. It seems to have excellent marks in doing the job, and plus, aren't you curious to see what's in the air of your home (causing allergies, health issues, etc.)?
"Removing all aspects of nerd-factor, the IonFlow 50F Air Purifier is an energy-efficient and quiet machine that's been proven to remove more than 99% of airborne pollutants in fewer than five hours and without producing any ozone…As a room is cleared of dust, smoke, pet dander, bacteria, mold and other allergens, these pollutants will collect on the outside of the unit's aluminum ring. When you see it needs to be cleaned, turn off the unit and quickly wipe the ring clean."
Aluminum; handmade acrylic stand.
H 26″ Diameter 7.5″