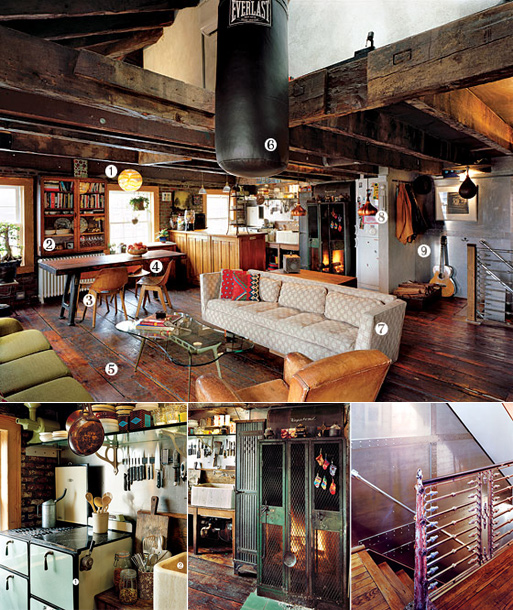 Polumbo's Peck Slip loft
Written by Katie on April 15, 2009. Permalink
So, originally I had planned to post pictures showing Randy Polumbo's Mojave Desert house, but those photos are hard to get, so you'll just have to settle for a glimpse of his loft in New York. The way Polumbo has repurposed items is pretty inspiring, and it might just renew your faith in eBay and salvage yards.
Here are a few examples that stand out: the stove was found on eBay for $80, the wood-burning hearth is made out of abandoned lockers, the antique cast-iron and sewage-pipe balustrade pictured on the lower right might have once been in a church (to which Polumbo said, "I have a soft spot for ecclesiastical garbage."), and the dining table is made from an antique workbench surface.
All in all, if any of it strikes a chord with you, you'll have to check out the article to see more.

pics & info via New York Magazine's Trash to Treasure article.
Also, check out his Mojave Desert house too. It's fun.