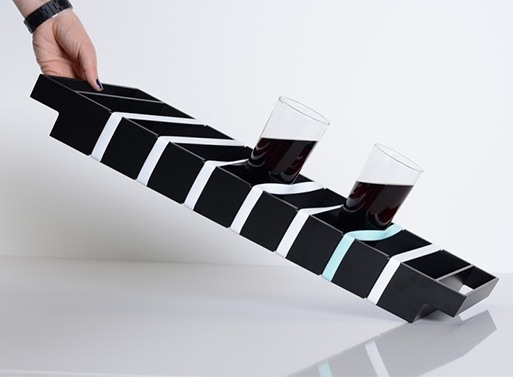 Whoooaa, steady, there! Maybe you need the Grip Tray- it will keep those beverages in place as they travel from kitchen to dining room, or, as the case may be, to the living room (you big couch potato, you). Silicone bands wrap around the outside to make sure things stay put no matter how wobbly or weak your arms may be. There's a Parallel (above) and Round size (shown below) available in a black or white color scheme.

Designer/Manufacturer: Rebecca Finell / FINELL
Powder-coated aluminum tray with silicone bands.
Additional neutral colored bands included.
Grip Band Parallel Serving Tray, $295.00
685.8mm x 203.2mm x 63.5mm / 27″ x 8″ x 2.5″
Grip Band Round Serving Tray, $395.00
508mm x 508mm x 63.5mm / 20″ x 20″ x 2.5″
Available from
Finell
, $295.00 - 395.00 .