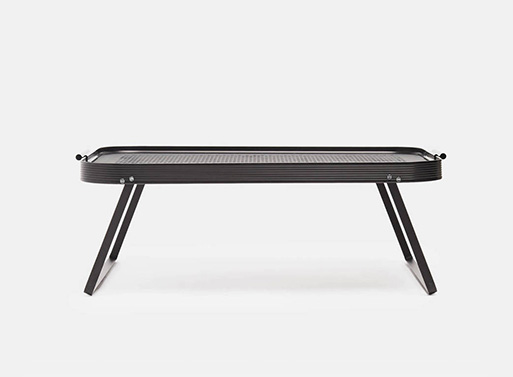 Breakfast in bed seems like a great idea, if you're coordinated enough not to spill coffee/crumbs/whatnot all over the sheets and covers. It would certainly help to have a lap tray with rubber grips, and perhaps a rubber backing, to help keep plates and cups in place, wouldn't it? The Kaymet Lap Tray has both, so you can dine and/or work (with your laptop) in comfort. It was designed in 1965 and is still made at the Kaymet south London factory.

Two rolled handles and folding legs make for easy transport.
Materials: Aluminum, rubber
Origin: Made in London
Dimensions: 13″ (width) x 20″ (length) x 8″ (tall)
Available from
The Line
, $295.00.
Tags: Gifts, Gifts $100+