This might look vaguely IKEA-ish, but rest assured its origins are in Spain rather than Sweden. Modular boxes are stacked to create a versatile and very portable storage solution. The boxes are deep enough for vinyl records or cable boxes and may be disassembled for shipment. Do make note that you'll need both the large and small modules to create a finished edge as shown above.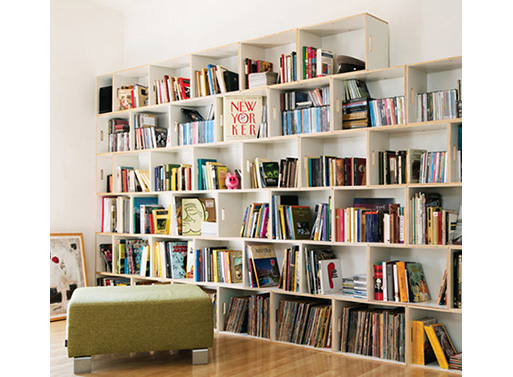 BrickBox is designed by Kazam Design; a furniture and objects design company created in Barcelona in 2010 by Antxon Salvador.
BrickBox is manufactured in Spain in 12mm using locally sustainable forest birch plywood and laminated in white.
Large BrickBox: $55.00
Box measures: 54 x 27 x 36 cms/21.3″W x 10.6″H x 14.2″D
Weight: 4 kg/9lbs
Capacity: 80 kg/176lbs
Small BrickBox: $47.00
Boxes measures: 27 x 27 x 36 cms/10.6″ x 10.6″ x 14.2″D
Weight: 3 kg/6.6lbs
Capacity: 100 kg/220lbs
Assessories: Feet or Castors (sold in sets of four; castors come with brakes on 2 wheels)