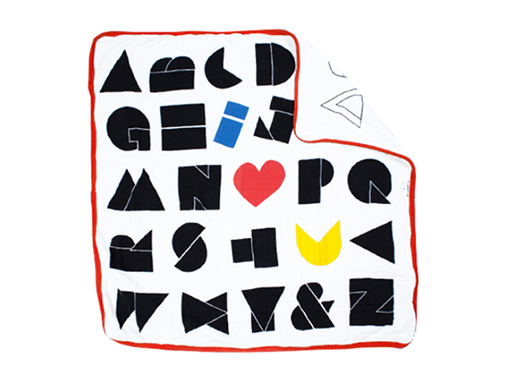 I bet there's a depressing amount of bad baby blankets out there. So many that it's best not to look, I think. So, it's up to you: make sure that newborn babe of yours/your friend/your relative develops their eyesight on this highly approved Wired Alphabet Square Blanket. It's made of 100% GOTS-certified four-ply organic cotton muslin, and it's reversible with the alphabet printed on both sides. The very lucky recipient may use the blanket as a stroller or nursing cover or even a soft play blanket.

Manufacturer: Rouxroo
Material: GOTS-Certified 100% Organic Cotton Muslin (Pesticide Free, Non-Toxic + Phthalate-Free, No or Low Impact Dyes, Eco-Sustainable, Socially Responsible.)
Dimensions: 48″ x 48″ Four-Ply Blanket
Also available directly from Rouxroo.
Available from
Cooper Hewitt Shop
, $124.00.
Tags: Gifts, Gifts $100+