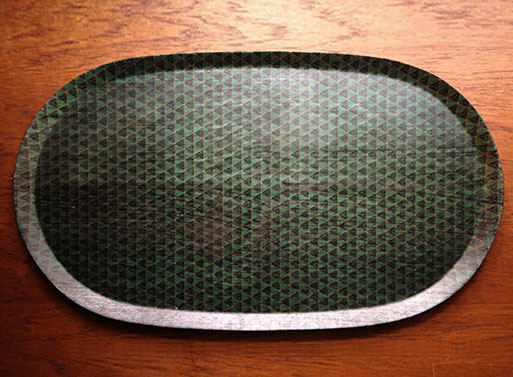 Forgive me, but I'm a little in love with the Vintage Printed Trays from Robyn Glaser. How could I not be, when we're talking about updating older wooden trays with a geometric pattern that's sure to catch the eye as well as all manner of miscellany around the house? Suddenly I'm inspired to round up every wooden tray I find on ebay and try my own hand at adding triangle patterns, though I'm guessing my attempt won't look near as nice as these.

Shown above: Vintage Scandinavian tray, No. 001-230
Individually printed.
Blue triangle.
12.5 x 21.5"
One of a kind.
Vintage Printed Tray – No. 001-136, 13 diameter, $210.00
Available from
Robyn Glaser Home
, 210.00.