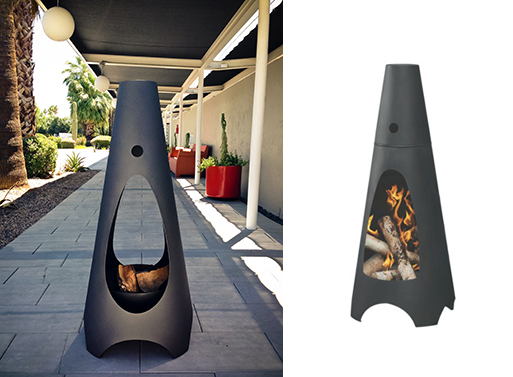 Ouch. It physically pains me to see blatant rip-offs*. On the left, you have Modfire's Urbanfire; on the right, Target's recent Threshold™ Chiminea. Notice that trademark symbol? Not cool. For more information, visit Modfire's facebook page.


Modfire's Urbanfire, $1,350.00
-manufactured from 14 gauge rolled steel, hand-rolled
-includes a hand hammered 14″ fire bowl to hold your favorite wood or composite fire logs.
-ultra high-temperature charcoal powder-coat
Dimensions: 48″ h (9″ dia. top), 22″dia. base
Weight: 60 lbs.
Target's Threshold™ Chiminea, $99.00
Frame Material: Steel
Hardware Material: Galvanized Steel
Protective Qualities: Heat-resistant
Dimensions: 48.0 " H x 21.3 " W x 21.3 " D
Weight: 26.5 Lb.
*I hesitate to even post this, as I know there's a chance you'll look at the price difference and think you've got a chance to save some money. Before you buy anything, just think about intellectual property, and what you'd do if you were the designer whose product was copied without permission or licensing.
Available from
Modfire
, 1,350.00.