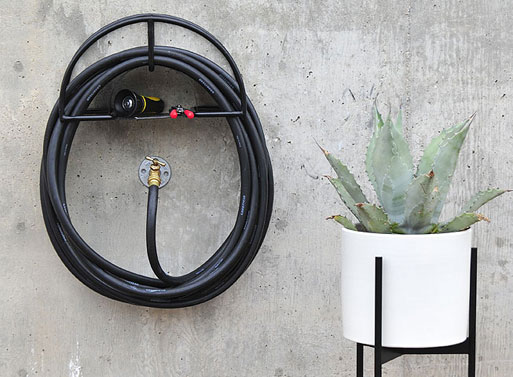 If a messy hose situation is ruining the appeal of your outdoor area, you'd best get things sorted with an appropriate storage solution. There's many storage options around for much less than this one, but most are slightly depressing in that they're made of plastic or have unnecessary/disappointing decorative accents. Ten10 Design's Hose Jockey, on the other hand, keeps hoses tidy without offending your design sensibilities, and is made of industrial-grade, powder-coated steel.

Dimensions:
16.75″ wide (across)
9.25″ tall
6.875″ deep
Materials: Powder-coated steel.
Made in the U.S.A.
Updated price and link; originally posted Jul 6, 2012.
Available from
Modernica
, $119.00.