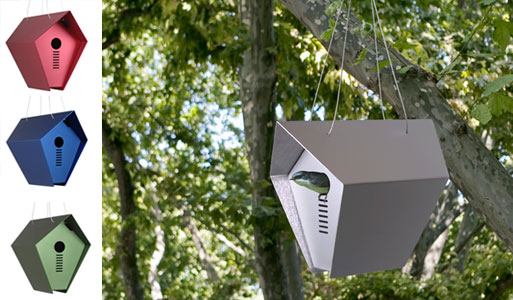 A decidedly modern accommodation for your feathered neighbors:
Chances are slim that the birds in your back yard are reading Dwell magazine, but nonetheless they will be dwelling-well in this mini-modern home of their own. The Roost bird house is a perfect place for bringing up a family of chirpers. Sorry, no human sized versions (yet).

-Aluminum construction will not rust, is chew-proof, non heat-conducting
-Anodized colors do not chip
-Easily removable sections for annual cleaning, but locked in place when hanging
-Venting and drainage to stay cool and dry
-1 3/8″ entryway
-13″W x 7 "D x 10″H
$125.00, Buy it here.