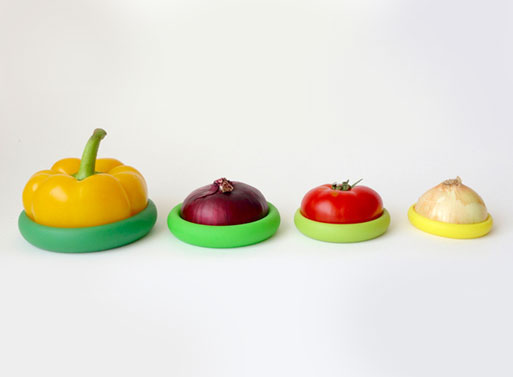 Don't worry, Food Huggers are not a group of people lecturing you about loving your food, they're small silicone thingamajigs that help you save your fruits and vegetable from the trash or compost bin. The flexible inner edges of the Food Hugger seals in the juices so that your food won't spoil or dehydrate as quickly as it would otherwise. How many times have you thrown away half an onion, tomato, cucumber, etc. because you didn't use it in time? That will become a thing of the past with these little brilliant things. 4 different sizes fit all sorts of fruits and veggies, and they nest together in a drawer for storage.


Food Huggers are a patent pending invention by Michelle Ivankovic and Adrienne McNicholas.
100% BPA & Phthalate Free
100% FDA Grade Silicone
100% Dishwasher & Microwave safe
100% Freezer safe
Available from
Food Huggers
, $10.00.