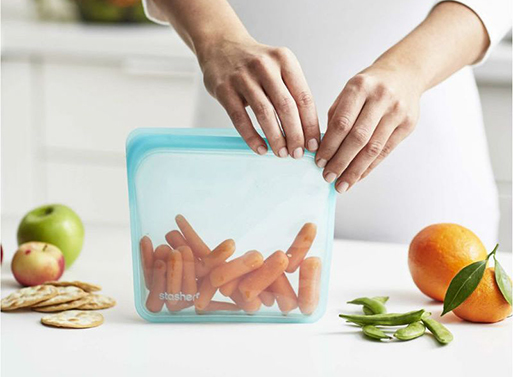 Plastic, throw-away storage bags? No, thanks, I'll take a few of these Stashers instead. They're self-sealing, reusable, 100% pure platinum food-grade silicone storage bags. Use them in the freezer or microwave and wash them in the dishwasher, easy as can be. They're handy little storage bags to keep your food fresh or other little sundries safe, all while reducing the amount of plastic that ends up in landfills and our oceans.

HALF GALLON, 10.25" x 8.25" x 1.5" (64.2 fl.ounces), $19.99
SANDWICH, 7.5" x 7.5" x 1" (15 fl. ounces), $11.99
SNACK, 4.5" x 7.5" x 1" (9.9 fl. ounces), $9.99
Available from
Stasher
, $9.99+.