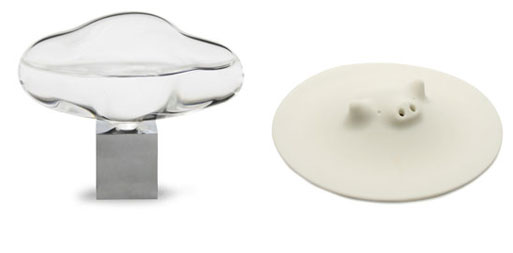 If you haven't checked out MoMA's Destination: Japan, head on over there and take a look- it's kind of fascinating.
Crystal Cloud, Yumiko Yoshimoto, 1979:
"Water in this cloud-shaped glass sculpture creates repeating natural phenomena such as forming water drops, becoming cloudy based on temperature, and shining when the water sways. Created by glass sculptor Yumiko Yoshimoto, each Crystal Cloud is mouth blown and shaped by hand. Made of borosilicate glass filled with distilled water and a polished chromium-plated brass stand. Hand-wash only."
Size: 2.75h x 3l x 1.5″diam.
$100.00, $90.00 Members, Buy it here.
Pig Cooking Lid, Marna Inc., 2001:
"Made of soft silicone with a pig face in the center, this multipurpose lid can be placed directly over ingredients in a pot to help them cook evenly, releasing steam through the pig's snout. It can also be used to cover food in the microwave, and as a grip to open lids. Dishwasher and microwave safe."
Size: 1h x 7″diam.
$18.00, $16.20 Members, Buy it here.
Tags: Gifts, Gifts $1-$25, Gifts $100+, Gifts $76-$100