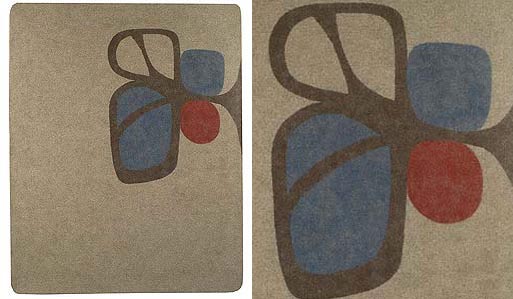 Buying a rug can be a difficult process- they're usually very expensive and there are so many options to sort through…so, on that note, here's another one to consider (that might just be the perfect choice)- it's neutral but has an interesting design with colors to pull out when the mood strikes you…the credentials of the company are worth noting as well: you'll be buying a product that is made in a responsible way.
"Made from wool that's chosen for its strength and durability, Peace Industry rugs are naturally stain-resistant and the high content of lanolin protects them from foot traffic and wear and tear. Over time, the rugs will continue to soften and the colors will brighten. The Raissinas have a strong commitment to the environment and Fair Trade practices – the felting process requires no chemicals or toxins, and they guarantee that no worker is paid sub-living wages."
Each is made by hand and therefore unique.
100% wool; vegetable dyes.
W 8′ D 10′ H .75″
Tags: felt