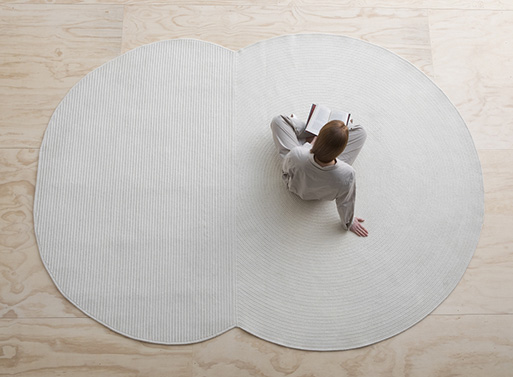 There's something special about irregular rugs. It's the unexpected shape, so different from the regular rectangle, that leads the eye around the rug's circumference and lends a sense of playfulness. Grain's Duo Rug combines two shapes to create one; each shape is composed of a different braiding technique, adding a subtle textural difference.

And, if circles are your sort of thing, you may like the Pool Rug (below), as it is has a pleasing amorphic design.
"Handmade in New England by a mill with 30 years of manufacturing experience, each rug is braided and sewn to order using natural undyed Canadian wool."
Custom sizes, colors and materials are possible. Colors vary slightly. Rug pad recommended.

Duo Rug: $2,450.00
Height: 96 in / 243.8 cm
Width: 129 in / 327.7 cm
Pool Rug, Large: $3,085.00
Large Height: 98 in / 249 cm
Large Width: 137 in / 348 cm

Pool Rug, Small: $1,985.00
Small Height: 60 in / 152.4 cm
Small Width: 84 in / 213.4 cm
Available from
Grain
, $1,985.00 - 3,085.00.