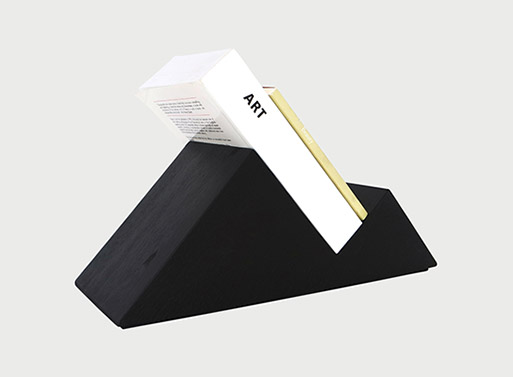 What, there's a functional sculpture that displays your favorite books and I'm not going to tell you about it? Please. These 'functional sculptures' aren't cheap, but they are quite special if you have some very special tomes. Mountains holds an open book, so that you may peruse the pages slowly. Peaks intends to show off a book's cover, or one cover and several spines, if you so wish. Waves has blackened steel upright dividers to mark your place in your smaller novels and other current readings.

All three Bookscapes are crafted of solid spanish cedar hand dyed black and sealed with a waxed based finish. Waves introduces a blackened steel component to the collection.
Design by Trey Jones Studio.
Mountains, $340.00, 31.5″L x 11″W x 4.25″H
Peaks, $275.00, 16″L x 6″W x 7″H
Waves, $325.00, 12″W x 5″W x 4″H
Originally posted Jan 18, 2017.
Available from
WorkOf
, $275.00+.
Tags: Gifts, Gifts $100+