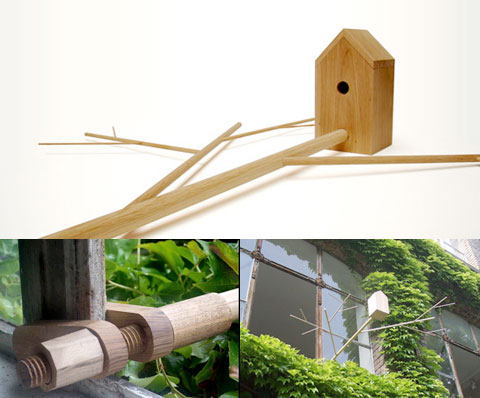 If you're planning on giving birds a crashpad, why not give them some room to perch as well? Perfect for apartment dwellers or those of you without trees around, this birdhouse provides more than enough room for those feathery friends to chill out and chatter.
This Birdhouse links the balcony to its green surroundings, the inhabitants of apartments to the birds outside. Lacking a garden in her LEGO like apartment building, Emilie Cazin created this Birdhouse in order to attract birds to her balcony and thus stand out from all the piled up apartments with the same windows, same walls, same balconies. The uniform balcony is transformed into a lookout for birdwatchers.
Birdhouse, with a form that refers to, but clearly deviates from the parabolic antennas in the cityscape, is an invitation to the city's birds to nest close to one's window.
Designer: Emilie Cazin (Belgium)
Manufacturer: Vlaemsch() (Belgium)
Note: currently to order you can email info@vlaemsch.be, but their store should have the birdhouse up & available very soon.