If you've refused to surrender your record collection (or CD collection, for that matter), you'll be overjoyed to see this series from Symbol Audio. The LPC series is made specifically for housing vinyls, and each "hopper" drawer swivels open to show up to 160 records. You can choose between a few sizes depending on your collection (and budget), with or without drawers sized for holding CDs. Each piece is bench-made to order in West Virginia, so you'll have to wait around 4-6 weeks, but that's nothing compared to not having the perfect storage piece.

Designed and manufactured by Symbol Audio.
Material: Responsibly harvested solid Maple or Walnut.
Main image above: LPC 200 Record Storage Cabinet, $3,100.00 – $3,900.00
Specs: (inches) 55 3/8 w x 18 d x 24 1/2 h
(2) LP storage bins – holds 320 LPs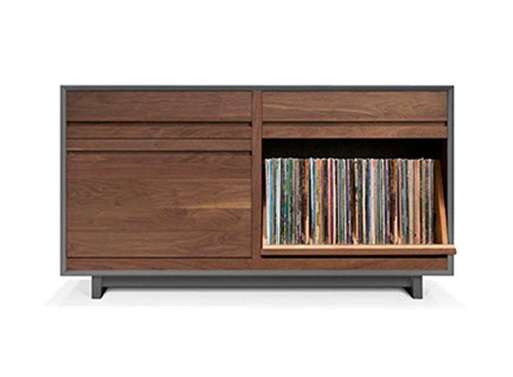 LPC 202 Record Storage Cabinet, $3,300.00 – $4,200.00
Specs: (inches)55 3/8 w x 18 d x 31 ½ h
(2) LP storage bins – holds 320 LPs
(2) CD drawers – holds 320 CDs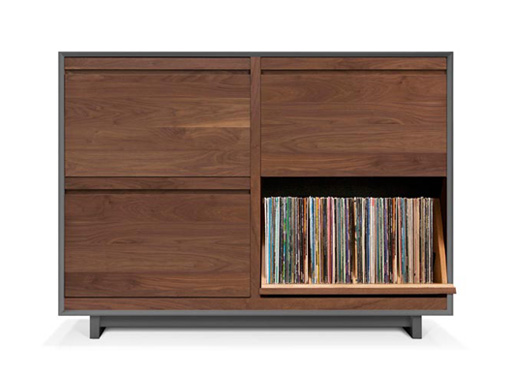 LPC 400 Record Storage Cabinet, $4,200.00 – $5,200.00
Specs: (inches) 55 3/8 x 18 x 41 5/8
(4) LP storage bins – holds 640 LPs
Also, not shown, LPC 402 Record Storage Cabinet, $4,400.00 – $5,500.00
Specs: (inches) 55 3/8 w x 18 d x 48 5/8 h
(4) LP storage bins – holds 640 LPs
(2) CD drawers – holds 320 CDs