Few things manage to hit just the right note of elegant simplicity, but the Stockholm Sideboard by Mario Ruiz for Punt is perfectly pitched. Quality materials, fine detailing, and the absence of drawer pulls creates a minimal luxe look, while the elevated sides add an extra shelving space that will keep books and artifacts* safely placed. Something like this is surely customizable, yes? Of course. Choose between pale rose or gold for the top shelf edging and white, black, stone, or dark brown for the slim legs. See the various veneer options below.

*No artifacts in your collection yet? Don't worry, as soon as you buy this sideboard, you will immediately belong to the 'tastefully affluent' club, where expensive art and collectibles suddenly appear from thin air and then multiply just enough to fill your home.
Designer : Mario Ruiz
Year of Design: 2012
Material : E1, MDF, natural wood veneer, anodised aluminium & epoxy paint
Delivery : Made to order; 20-30 working days
Made in Spain
"Constructed of E1 and MDF, Stockholm is clad in various veneers and can be selected from natural oak or walnut, super-matt oak or walnut in addition to whitened oak, wenge stained oak, dark grey stained oak and open pore lacquered colours white or black."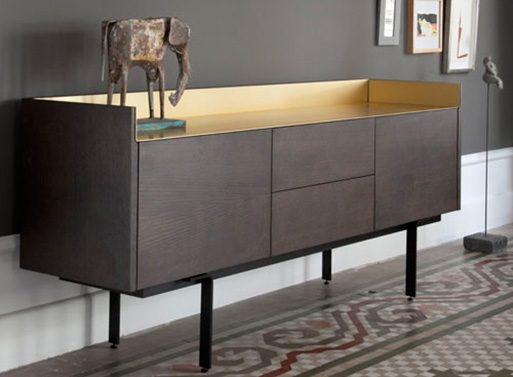 Images above: Model STK102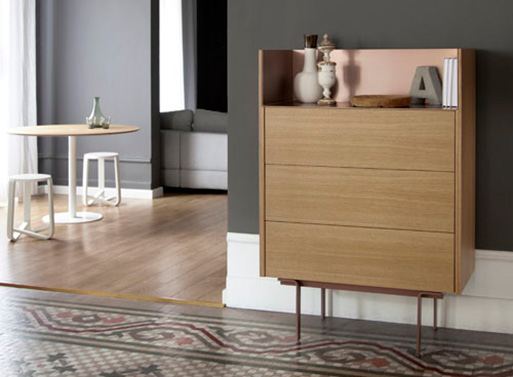 Model STK202 shown above. Models STK201, STK202 & STK203 are more upright dresser versions. Utility Design has dimensions and more information.
Available from
Utility Design
, £2,454.00.