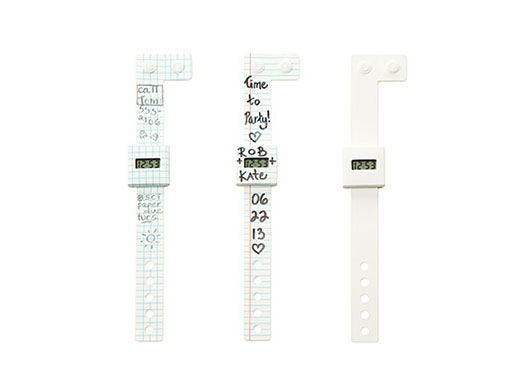 You can hear it calling out for your scribbles, doodles, and fancy handwriting, can't you? It feels like paper, but this watch has a polyethylene (plastic) band for durability. Use pencil for erasable notes or ink for more permanent designs, and don't forget that this could be an excellent gift idea for a friend or family member. As the retailer recommends, it might also be a clever save-the-date or party invite. Sold as a set of three, and is available in three styles: ruled, graph, or plain white.

Age Recommendation: 12+
Materials: polyethylene, digital watch components
8.75″ L x 1″ W
Also available in the UK from SUCK UK for £7.50.
Available from
Uncommon Goods
, 18.00 for s/3.
Tags: Gifts, Gifts $1-$25