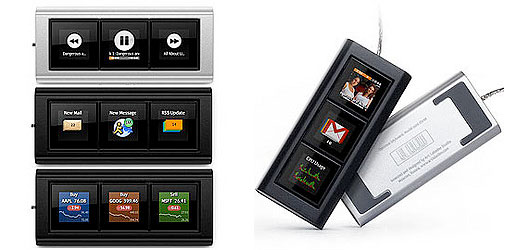 This looks like it would be a fun gadget to mess around with…the only problem I'd have is picking which 3 functions to choose.
3 completely controllable buttons allow you to assign pretty much any function to this sweet little device. Your iTunes controls, or your stock prices, or your communication settings that show you whether you have new mail or a new IM… What got us excited though was the fact that it was hacked and can now even play video.
Don't be alarmed, the buttons of today's mini keyboard have a resolution of 96×96 pixel and are huge compared to yesterday's and with the included configurator software that works on a Mac and a PC, they are a breeze to set up!
Colors: Black, Silver
$159.00, Buy it here.
Tags: Art Lebedev Studio