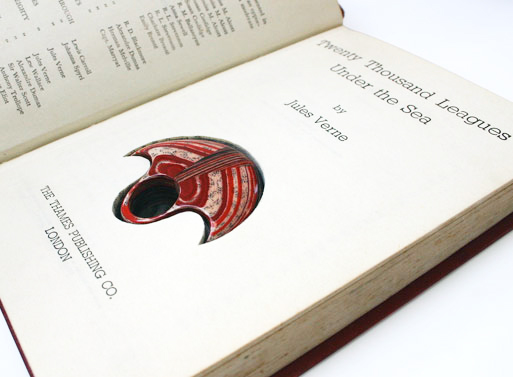 If you ever wished you could wear your favorite book, your wish has come true. Jeremy May makes jewelry from books, and yes, the results are a literary success. By laminating sheets together and sculpting to achieve the desired shape, he's created one-of-a-kind pieces that show hints of the texts and images held within. The final piece is cleverly returned to the cavity in the book for presentation or safekeeping. There's really quite a variety of shapes and sizes, and his site is very worth perusing should you be in the market for appreciation or purchase.
Prices range from 185 to 1050, as each piece is handmade and unique.

Rings – from €185 to €360
Earrings – from €400 to €460
Bracelets – from €435 to €500
Pendants – from €500 to €550
Necklace – from €760 to €1050
Available from
Littlefly
, .
Tags: Gifts, Gifts $100+