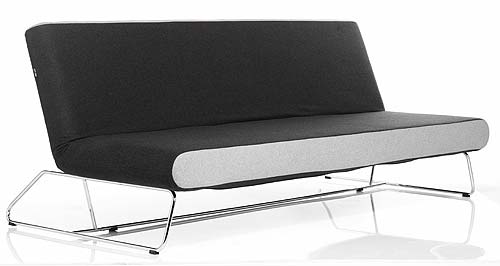 Do I need to say that this looks way better than anything that falls under the category of "futon"? I think I probably don't, but just in case, if you're thinking about a sit/sleep double action sofa, I recommend serious consideration of this particular sofa. It looks good.
"The compact, Dutch-designed Logo Sleep Sofa rests lightly on chrome-plated steel sleigh legs, with crossbar support for added strength. The Sofa opens easily through a three-staged durable ratchet mechanism for either reclining or sleeping. The Sofa sleeps two, and is upholstered in a soft heathered wool (two-toned charcoal and light grey or red and tomato) that suits almost any environment. Made in Denmark."
Available in Charcoal/Light Grey or Red Tomato.
H 33.5″ W 78″ D 38.5″ Seat H 15″