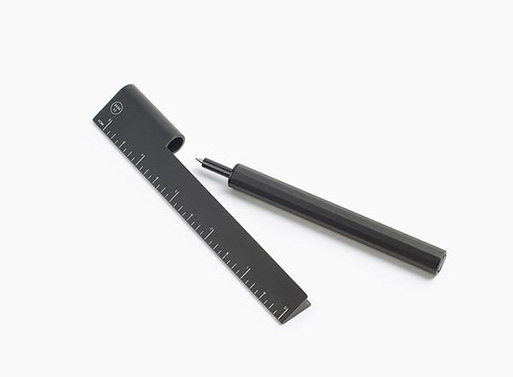 How much do you want the Rule/One? I guess that all depends how often you measure things, or how often you need a straight line. The Rule/One is a aluminum ruler and a pen, all in one. The pen clicks into place inside the spine of the ruler thanks to a strong magnet. With three interchangeable heads (pen on paper, stylus tablet, or lanyard attachment), you can alter it to suit your needs. Plus, its droplet shape makes it suitable as a bookmark as well.

Designed by HMM
Made in Taiwan.
Aluminum. 60g.
L: 5.43″ / 138mm, W: 0.98″ / 25mm, H: 0.43″ / 11mm.
Refill: Uni-ball Signo UMR-85 (for UMN-207 Micro, 152, 105).
Updated price and link; originally posted Nov 16, 2016.
Available from
Poketo
, $60.00.
Tags: Gifts, Gifts $51-$75