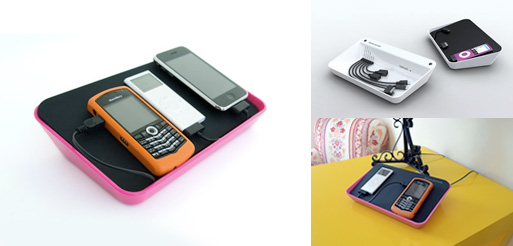 Yes, yet another charging station has hit the ever-growing market. With two built-in iPod/iPhone connectors, a Mini and Micro USB, and two regular USB sockets, it's sure to fit your (and/or your family's) needs. Plus, it looks pretty sleek with its angled surface (better to view screens while charging) and rubberized top.
"Compact in size and compatible with most of the new devices hitting the market today, it can charge two iPod/iPhones simultaneously while also charging a Blackberry and a bluetooth headset for instance. In fact, using the two iPod connectors and two of your own iPod cords, you could even charge four iPod/iPhones at the same time."
Available in Jet Black, Polar White or Fresh Pink.
$89.95, Buy it here.
Tags: pink