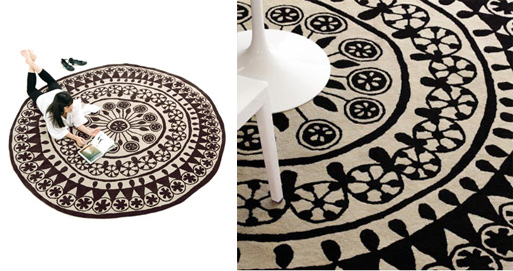 Nani Marquina has an excellent selection of floor coverings, and luckily right now you can get 20% off this one from DWR (Rug and Upholstery sale through January 27, 2009). Update: Sale over.
"Renowned for playful forays in color and texture, rug designer Nani Marquina takes a bold, circular approach with her Rangoli Rug (2008). Rangoli takes its name and inspiration from classic Hindu mosaics. A popular art in India, it's a form of sand-painting that uses finely ground white powder. In this interpretation, the round pattern is handtufted in graphic black and white wool, beginning in the center and emanating outward. Its dynamic pattern is portrayed in neutral colors, ideal for placement in front of a sectional sofa, under a round dining room table or in an entry room. Together with the nonprofit Care & Fair, Nani Marquina is fighting against illegal child labor in the manufacturing of carpets."
100% New Zealand wool.
Diameter 8'2″

$3,200.00, Buy it at DWR.