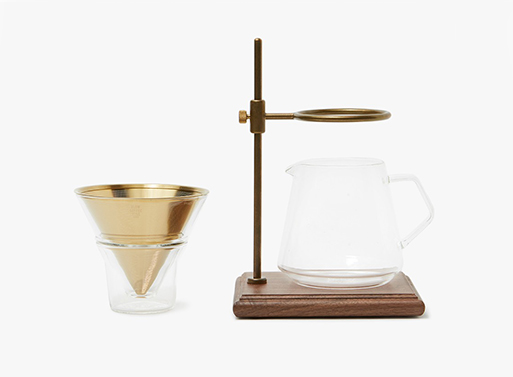 Another brewing stand for coffee? I know, I'm getting a little tired of seeing them everywhere too, but they're just so darn appealing. Kinto's Brewer Stand set includes a heat-resistant glass holder, server, and brewer along with a stainless steel (with tin coating) filter and walnut stand. Would it be crazy to use it as a vase when not brewing coffee? Hmm.

Holder, Server, and Brewer: Heat-resistant glass. Microwave and dishwasher safe.
Filter: 18-8 stainless steel with tin coating. Dishwasher safe.
Stand: Walnut with urethane coating, brass, 18-8 stainless steel and silicone.
Available from
Need Supply Co.
, $188.00.