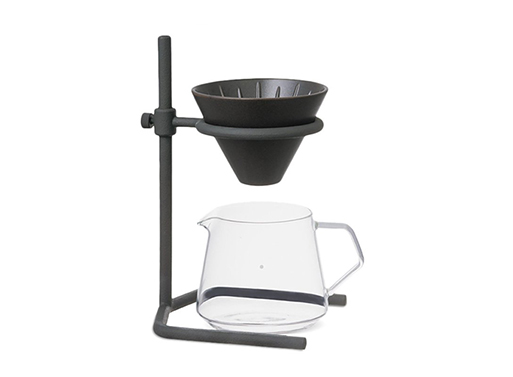 Here's the brewer stand for you. There's a stainless steel base, a porcelain brewer, and a heat-resistant glass server. The industrial vibe is anything but fussy, thank goodness. The inner side of the stand's ring is edged to hold the brewer steady, and the stand's height is easily adjustable to allow for other vessels from a mug to a bigger server. If you'd like something a little more classy, do be sure to check out the Kinto Brewer Stand in walnut/brass.

Glass Server and Porcelain Brewer are both microwave and dishwasher safe
Available in 2 Cups or 4 Cups.
20pcs of paper filter included.
Dimensions W5 in x D5.1 in x H8.3
Materials:
Stand: stainless steel
Server/ Holder: heat-resistant glass
brewer: porcelain
filter: cotton pulp, wood pulp