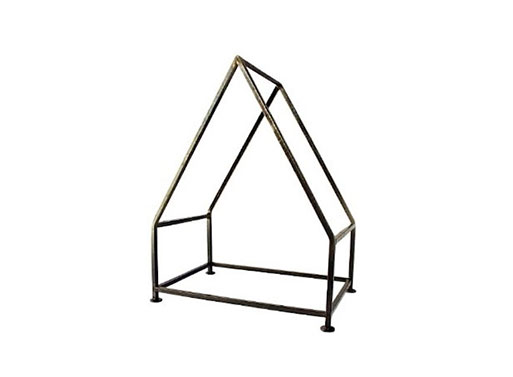 Correct me if I'm wrong, but it's not everyday that you run across decent firewood holders, much less one that doesn't cost half a grand (to be fair, that link is to a log carrier, not holder) or more. Now, this holder won't catch the dirt/debris that firewood is bound to shed once brought indoors, but it is made of square-section iron and it's in the shape of a simple, line-drawn house. That shape (and its price) seems preferable to most other wood holders available nowadays. A few others that seem decent around the $200 mark are linked to below.

Shown above: 'House' Firewood Log Holder, $189.00. Made of square-section iron, welded into the shape of a simple line drawing of a house.
18.5W x 12.5D x 25H"
Other log holders found while looking for comparatives:
1. Pilgrim 18516 Traditions Log Carrier, $199.00. Yep, it's more of a traditional design, but there's nothing offensive about it. Plus, it's a carrier as well as a holder.
2. 21″ Steel Basket, $119.00. Not very exciting, but it will do the job. And when you don't need firewood indoors, you could use the basket for other stuff.
3. Iron Log Holder, $99.00. A big, sturdy iron vessel. Enough said.
4. Alton Pewter Log Holder, $99.95. I'm not really a fan of pewter or stainless steel fireplace accessories, but if you don't mind it, this holder is has modern styling and is very affordable.
There you go, that's all the log holders I can stomach for today.
Available from
Paper Trail
, 189.00.