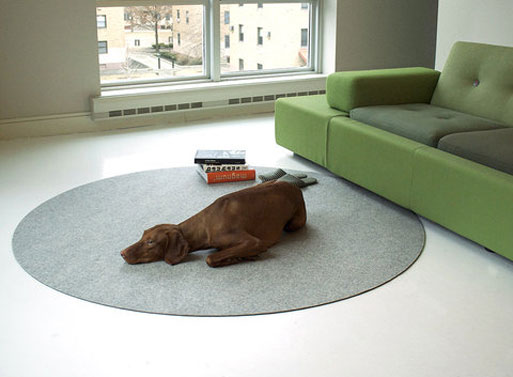 Remember this Felt Circle Floor Mat? Well now there's more than just the 68″ diameter size, and a ton of colors to choose from.
This 68″ diameter circular floor mat would be a good choice for a tight living area, not to mention the shape is a nice contrast to all the boxy furniture most of us have.

XS, $160.00, Size: 30 in (76.2 cm) diameter
S, $580.00, Size: 54 in (137.16 cm) diameter
M, $750.00, Size: 69 in (175.26 cm) diameter
L, $2,250.00, Size: 96 in (243.84 cm) diameter with hand-stiching
XL, $2,850.00, Size: 120 in (304.8 cm) diameter with hand-stitching
From our archives; originally posted Apr 5, 2010.
Available from
FilzFelt
, 160.00 - 2850.00.
Tags: felt