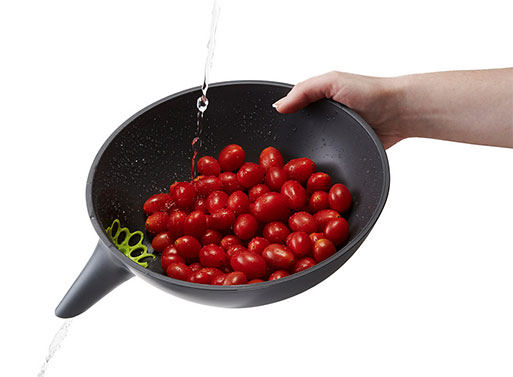 You do rinse your fruits and vegetables, don't you? There's no telling who sneezed on it, after all, and there's always a chance that some creepy crawly bug has hitched a ride, unbeknownst to us all. But it wastes so much water, you say. I know, I know.
The Easy To Strain Bowl by Ryann Aoukar will help with that, as it has a spout/handle that makes draining easy- into a cup or plant or wherever. Also, if you're a pasta lover, you've got to see the possibilities of draining the pasta on the counter, away from the bottom of the sink (germs!). Plus, if you're lazy, you could just eat directly out of the bowl, as it's perfectly acceptable for use at the dinner table while watching your favorite shows on the sofa.


Also available directly from Ryann Aoukar at his site Caveman Factory, $25.00 (+$8.00 shipping)
Made in China.
Made from Polypropylene.
Measurements: 12″ L x 9.25″ W x 4″ H; 16. oz capacity when in its tilted position
Available from
Uncommon Goods
, $25.00.