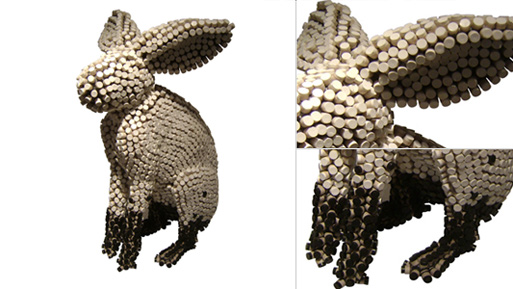 I've watched Donnie Darko and Sexy Beast, so the chance of this bunny being non-creepy is long gone*, but for anyone who appreciated the earlier post on Herb Williams' crayon sculptures you might be interested to see a new item has been added to the mix.
A sculptor who ingeniously uses crayons as his medium, [Herb] Williams creates works that are not only strikingly beautiful but playfully allude to serious cultural icons as well. And don't forget that unmistakably happy smell. This spirited bunny measures 17 1/2″ x 12″ x 12″ and is made of crayons and Fiberglas. Signed and dated.
$12,000.00, Buy it here.
(*as if it being creepy would be the primary reason of not dropping 12 Gs right now.)