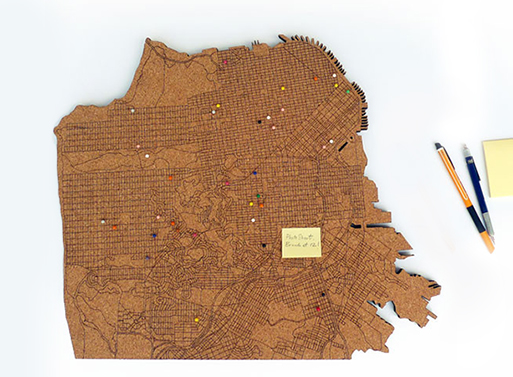 If San Francisco is your favorite city, then snap up this CorkMap. The many streets and neighborhoods within the city limit are laser scored into the cork, all to scale at 2.5″=1 mile. Use it as a message board or as a planning tool for your next visit; either way, you'll have plenty of room for notes, as the board measures 20″ x 18″.

Designed by Laurence Srinivasan
The map is drawn to scale: 2.5″= 1 mile. It can be wall art, but it is also functional as a message board.
The cork is a high quality, .25″ thick European cork and it is mounted to a .25″ MDF hard panel. Includes mounting hardware installed in the back.
20″ x 18″
Also available directly from MetropolitanCraft, though it looks like they only have 1 currently in stock.
Available from
SFMOMA
, $140.00.