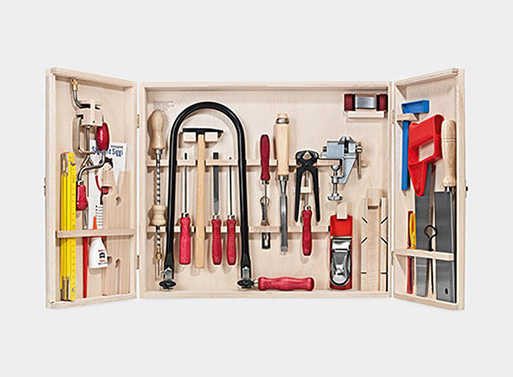 Let's take a moment to geek out just a tiny bit over this Craftworker Cabinet. For $130, you get a wooden cabinet with flip-open doors along with a starter kit of 27 tools, from basic to professional. 27 tools, in a cabinet, that you can hang on a wall or tuck in a closet or under the bed. The set was first produced in 1919, and it shouldn't be a surprise that it's still one heck of a deal. Is there a better housewarming gift for someone's first home? Nope.

Size: 14.75h x 17.5w x 3.2″d
Materials: Beech and birch wood, metal, plastic
A slightly larger image above, for your perusal.
Available from
MoMA Store
, $130.00.
Tags: Gifts, Gifts $100+