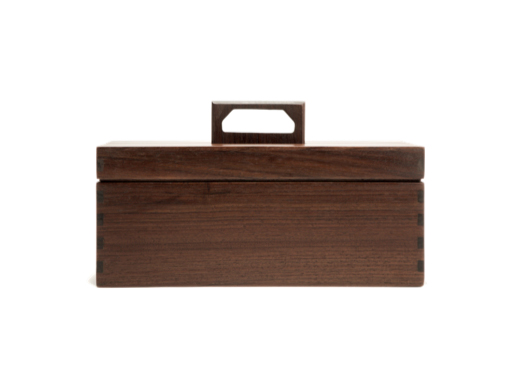 This is the nicest toolbox ever. You certainly wouldn't want to hide it away on dusty shelf in the garage, so think beyond just nails and hammers. Maybe it could keep sewing supplies organized, or your jewelry collection tucked away safe and sound. Made with Nogal wood (a.k.a. Tropical Walnut), each toolbox is made by skilled Nicaraguan craftsmen and features comb joints and an interior tray for smaller items. The tray and lid slot easily through the handle for a clean, streamlined look. On a personal note, I've had my eye on this Toolbox for a year now, and recently I was able to see it in person; it's beautiful and well worth the price point.

Small: L10″ W5″ H6″, $180.00
Medium: 14″L x 6.5″D x 8″H, $220.00
Large: L18″ W8″ H10″, $265.00
Designer: Aaron Poritz of Poritz & Studio
Materials: Nogal wood (Tropical Walnut)
Made in Nicaragua
Available from
Poritz & Studio
, $180.00 - 265.00.
Tags: Gifts, Gifts $100+