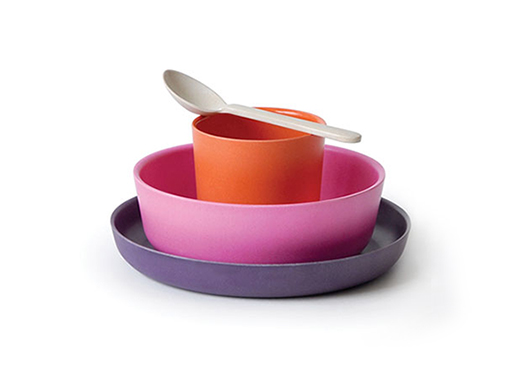 Parents, can we discuss the silly plates and dishes on which you serve your children food? Maybe they like garish pink or blue, or the cartoon characters in colors that would make a discerning adult nauseous, but why not gently steer them towards something easier on the eyes? This tableware by Ekobo Home is still colorful, yet the color is of a softer, quieter variety. Made from bamboo, a renewable natural resource, each piece is dishwasher-safe, so you'll not need to sacrifice an easy cleanup. The set has four pieces; a cup, a bowl, a deep plate and a spoon, just enough to cover the essentials, or pick and choose your pieces individually.

-Eco-friendly range is made from biodegradable bamboo fibers with food-grade melamine binder.
-BPA, PVC and Phthalates free.
Also available in a Cool color way.
Available from
Gretel Home
, $25.00 .